Some quotes from my customers: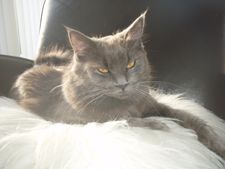 Tissla
Hi Susanne!
And a big thanks for your detailed answer with sensible advice. I have been to the veterinarian with Tissla and they couldn't find anything wrong with her, and didn't think she was in pain. I have also read your fantastically warm, funny and educational book on cat behavior which gave many aha-moments!
Now I have followed the advice in your mail. I noticed exactly when you wrote that she thought it was nice to be petted on the head and under the chin. It's when you try to stroke her back that she gets irritated. I also noticed that it's better to pet her when she is sitting up high, for example in her cat tree. Now I hope the "food trick" will work.
Again, a warm thanks for the intelligent advice
Best regards
Anna Nordegren
---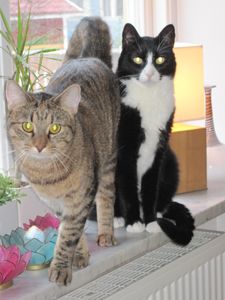 Dexter
My four year old tomcat Dexter has occasionally sprayed inside for the last three years.  As his owner, I've refused to give up until I've exhausted all imaginable options for stopping this urine marking.  Dexter has gotten vitamin B injections, taken birth control pills, talked to a cat whisperer, been to the veterinarian, and been taken out on a leash.
I've tried different kinds of cat litter, placed out extra litter boxes in the places where he usually marks, washed with all kinds of products, and experimented with the placement of his food dish.
When Dexter was in one of his marking periods, and I was at wit's end, I contacted Susanne Hellman Holmström in a last ditch attempt to save my Dexter from a final visit to the vet.  With the help of Susanne's consultation and action plan, there was a clear improvement.  After another consultation, other measures were taken and Dexter is now free of his bad habit, happier, more playful, and calmer.  Dexter's cat friend Tiger and I are both very thankful that Dexter can continue to be a part of our family.
Best regards,
Linda
---
Thank you very much for helping us to get Vincent to understand that he is not the odor-police, just a super cuddly cat who may be just a cat.  Ever since we spoke two weeks ago, he has done his business in the litter box every time just like he should.  You have helped both us and Vincent with your astute analysis of the problem and its underlying causes.  THANK YOU!
Thank you so much, Susanne.  If we have any more problems, we won't hesitate to contact you again.
Sincerely,
Karin & Mattias, Vincent & Simmons
---
We want to give you a huge thank you for the help with our cat Zimba.  He woke me up at night for several months until I couldn't take it anymore.  I found out about you when our local newspaper published an article about how you helped another family.  That was my salvation.
I can heartily recommend that other cat owners contact you.  Your wealth of knowledge about cats is priceless when one does not understand one's own animals.
Regards,
Carola
---
We are very grateful that you helped us understand Alice and her fears.  Knowledge gives the power to do something about the problem.  We have begun to relax, which of course has been a positive influence on Alice.  It feels good not to have to hunt for wet spots with a UV-light and worry that people who visit will notice the smell of urine.
Heartfelt thanks, Susanne!
Wilhelmus och May-Louise
---
We are so glad that we came in contact with you.  Sven the cat is making so much progress, it feels like magic!
Again, thank you so much!  You are incredibly knowledgeable.
You have our warmest recommendations!
All the best,
Linda & Alex
---
Thank you very much for your help with our cat Cognac.  We are completely amazed that our cat stopped scratching on the doors after just three days!
This nightmare has been going on for quite some time and we had tried everything to get him to stop, but with your good advice the problem disappeared quickly.
Sara
---
I just wanted to drop you a note to let you know how it's going with our cat.  Angela is doing much better now and has found peace in the apartment.  Since you were here, she's only peed in the living room once.  It's going really well, and we are very pleased.  It is fantastic how much you have helped.  We are so happy that we don't have to search for cat piss anymore.  Now we can enjoy our wonderfully affectionate cat to the fullest.
THANKS FOR YOUR HELP!
Sofia
---
We promised to let you know how it went with Måns since you were here.  He continued to mark by defecating for a short while after your visit, but after following your advice, he's become a whole new cat—calm and cute.  He's been doing his business in the litter box and only there.  We want to thank you for your help!
Linda & Per
---
I wanted to thank you for coming here and with your easygoing attitude giving me positive energy which let me release the frustration with my cat who had been keeping me up at night for several weeks.  He has now slept calmly through the night for several weeks, and we are so happy about it.
Many thanks for your good advice!
Cecilia
---
Thank you for giving us our life back.  We can now sleep until the alarm clock rings.  Our cat Olle now sleeps all night and is more active during the day.
Many thanks for your action plan for Olle's behavior.  We will recommend you to others who say that they have problems with their cats.
Ylva
---
Mysak has displayed exemplary behavior since we contacted you.  Mysak seems much more pleased with his life than before, perhaps because we understand him better now.
With gratitude,
Stefan, Astrid, Mysak & Sune
---
We are so thankful for your help with our cat Moses, who got worried when we rearranged the furniture in our house.  He suddenly started urinating outside of the litter box and causing problems.  Thanks to Susanne, we could quickly remedy the problem.  As a cat owner, it's not always easy to understand your pet and what is wrong.  Therefore we can happily recommend Susanne who is so knowledgeable.
Sincerely,
Helena & Moses
---
Hi!
We want to tell you a little success story:
Last spring, we bought a white Norwegian Forest Cat male without pedigree.  Sure, we saw that he was a shy cat, but the seller failed to warn us that he was SO shy.  For the first weeks, all he did was sit in the closet and hiss at me whenever I came near.
I contacted you, and we had a short conversation on the phone.  I followed the advice you gave, and the cat got gradually more and more tame. It didn't take more than 3-4 weeks.
We now have the world's most affectionate and cozy cat.  He is enjoying life with us and his rabbit friend with whom he shares the patio and garden.
Thanks for your help!
Best regards,
Birgitta
Copyright © 2019 Kattspecialist Susanne Hellman Holmström | Webbdesign: Kindbo AB